Gonzo's Quest
Developed by NetEnt, Gonzo's Quest is a bit older video slot, but it still looks modern. Based on a historic character – conquistador Gonzalo Pizzaro, this slot features five reels and 20 pay-lines. It is widely known for its unique features, particularly the Avalanche Multiplier. The reels on Gonzo's Quest move like cascades, that resembles avalanche a lot. Once a player activates every new avalanche, they will win multipliers, displayed over the reels and can go up to 5x.
Mega Moolah
Mega Moolah is a Safari theme slot which is the prototype of the modern progressive jackpot video slot with 25 pay-lines. Microgaming had the idea to rival the first progressive jackpots that were created to make it bigger and more popular. They completely succeeded so now Mega Moolah is one of the first associations to the slot gaming word with a progressive jackpot. The status of this slot was confirmed five years ago when one British soldier won up to more than $20 million.
Starburst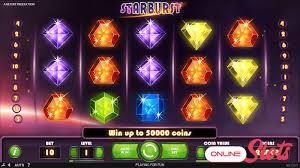 Starburst is one of the most popular slots in the past several years. Starburst is considered as something like a perfect slot by many gamblers from all around the world. The secret of Starburst is simple, but every element is going well with another. The music is futuristic and not irritating. Shiny gemstones are looking great on the dark background, and of course, this slot pays quite well. Players can earn up to $100000 each spin. In addition, this slot has a huge betting range, so it is suitable for both beginners and experienced players. Everyone who ever played an online slot, maybe has played Starburst at least once. This is one of the reasons why this slot is always mentioned on all type of the top slots list in the world.